Conducted by
: Suneetha Thirumalai
Cost
:
$20/ Class
Class dates
: 
Saturday, 2PM-3PM
Timing and Venue :
Contact Suneetha
Bharatanatyam is a classical dance style from South India . By learning Bharatanatyam students enter a life of discipline, devotion and passion. Bharatanatyam is one of the ancient dance forms of India. The dance is performed in the stage as Nritham, Nrithyam and Natyam. Bharatanatyam is based on the theorie of the books 'Natysasaasthram' and 'Abhinaya Darapanam'. The dance form is based on 'Adavu' (steps) and 'Hasthamudra' (hand gestures). There are 64 basic 'Adavu' and they are divided in to 9 parts, on which 'Thattaddavu', 'Naatadavu',, 'Kuthithumettadavu' , 'Mandiadavu', 'Sarikkal' and 'Thattumettu' are very important. Communication is done through 'bhavabhinaya' (facial expression) and 'hasthamudra' (hand gestures). The performance starts with the prayers to God Ganapathi and worship of Nataraja Moorthi.
Flexibility
Bharatanatyam raises the flexibility in your body

Stamina
It improves the stamina in your body

Aerobics
Bharatanatyam upturn the aerobic fitness

Observation
Develops observation skills and physical adaptability to learn almost any dance form

Leg workout at its best
Aramandi (half-sit) Almost every step in Bharatanatyam will involve the dancer sitting in the Aramandi posture.
Amrita Dance Programs
for Everyone
A It is never too late. We encourage everyone to join.
Following the footsteps of her Guru is Bhanumathi. Suneetha's intent with Nrityamrita school of dance is to instill the love for dance in her students. Suneetha woul like to pass on the tradition of maintaining purity in the dance form and providing th einspiration for the students to express themselves through Nrita and Abhinaya
Students will learn the hand gestures and basic steps/adavas of Bharatanatyam. Classes focus on developing balance and alignment. Students will explore adavu groups, and learn helpful Yoga posture
Adavas will contine to be taught. Small jathis and phrases will be introduced int htis session to begin preparation for the intermediate level as awell as slokams and invocatory items (alarippu, pushpanjali)
This class focusses on learning items from the Bharatanatyam margam, or solo performance repertoire. This includes items such as varnams and padams. Students will focus on eveloping rhythmic and musical skills that can be applied to the item they are learning
The slokas, hastas and viniyogas (uses) of different hand gestures begin to be explored here. Proper align,ent, placement of teh body, and different applications of the adavus reveal themselves in this class
This class is a way for both professionals and amateurs to enjoy practise of the building blocks of bharatanatyam while working on form, strength and stamina. Set up as a cardio workout the classes function as a way to perfect technique or as a simple way to keep in touch with the dance form you love. Either way, it's a fabulous workout that will leave you itching for more.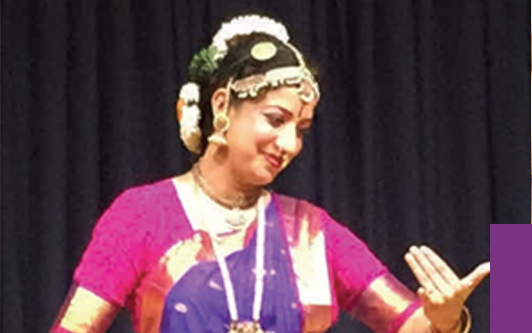 Suneetha Thirumalai began her dance journey at the age of six. Suneetha has been blessed to have learnt uner the guidance of Guru Bhanumathi. Throughout her school and undergraduate eductaion, Suneetha participated in various competitions and won first prices and accolades. Suneetha was awarded gold medal in interstate dance competition in Bangalore. With her Guru's blessings, Suneetha performed her rangapravesha and was part of Guru Bhanumathi's noted Bharatanjali dance troupe since its inception. An accredited Bangalore Doordarshan artist, Suneetha has performed solo and also along with her guru and Bharatanajali in India, US AND Japan. Suneetha's intent has been to nurture and share the love nd joy of this divine art form.
The name 'Bharatanatyam' is derived from three basic concepts of Bhava, Raga and Thaala. The modern Bharatanatyam was systematically regularized by well known 'Thanjavoor Brothers', Ponnayya, Chinnayya, Sivananadam and Vativelu.
Renowned Bharatanatyam dance exponents will teach the students the basic and finer intricacies of the age old gharana of temple dance.
The Amrita Hall has long been one of the most spacious and elegant venues in the East Bay.​
MA Center, 10200 Crow Canyon Road,
Castro Valley, CA 94552
info@amrita-hall.org
Subscribe to Our Weekly Newspaper
Copyright © 2018 The Amrita Hall.All Rights Reserved